FAQ
IS MY RENEWAL COMPLETED IN REAL TIME?
Yes, once you complete the renewal online it is immediately updated in the Secretary of State's database. Please remember that even though you are updated with the State you do need to attach the sticker to your plate once you receive it.
WHERE DO I FIND THE REGISTRATION ID AND PIN?
You can find your PIN and Registration ID on the renewal notice sent to you by the Secretary of State.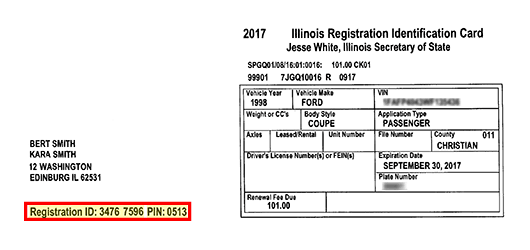 WHAT IF I DO NOT HAVE MY RENEWAL NOTICE?
Call the Public Inquiry Division at 800-252-8980 (toll free in Illinois) or 217-785-3000 (outside Illinois) during regular business hours.
WHAT IF I ENTER THE INCORRECT REGISTRATION ID OR PIN?
No worries! The program will not allow you to complete an incorrect renewal. If your renewal is rejected please re-enter your information.
AFTER I RENEW A VEHICLE CAN I CHANGE MY MIND AND GET A REFUND?
Once completed all renewal transactions are final. On the check out page you are required to check the box next to the Renewal Confirmation:
I understand the renewal CANNOT BE CANCELLED OR REFUNDED beyond this point and agree to the terms of service.
IF I LOSE MY STICKER HOW DO I REPLACE IT?
We are not able to issue replacement stickers. To replace a sticker, you can either go to https://apps.ilsos.gov/platereplacement or visit a Secretary of State license office and pay $20 for a replacement sticker.
DOES YOUR SITE ISSUE TEMPORARY STICKERS?
No, we are not authorized to issue Temporary tags via our site. If you receive a Temporary Renewal Sticker and you have questions, please visit the State's website for more information.
WHAT IF I RECEIVE A RENEWAL NOTICE FOR A VEHICLE I NO LONGER OWN?
Per the Secretary of State, you can disregard the notice.
WHAT IF I LIVE IN AN AREA THAT REQUIRES AN EMISSIONS TEST?
Not to worry. Due to the fact that we are linked with the Secretary of State, if you have completed the required emissions test and passed you will not have to do anything but proceed with completing the renewal process on our site. If you are not allowed to renew due to still needing the emissions test, simply go to a location near you and have that test completed. Once you do come back to our site and you will be able to proceed with processing.
WHAT IS A BENEFIT ACCESS PROGRAM NUMBER? CAN I USE A BENEFIT ACCESS NUMBER TO GET A DISCOUNT?
The benefit access program (formerly known as the circuit breaker program) applies to senior citizens and persons with disabilities and allows a discounted renewal fee. One must apply for a benefit access program number through the Illinois Department of Aging. If you have a valid benefit access number, you can provide it during the renewal process, and you will be given the discounted rate. If you are unsure of your benefit access number, you can look up your number here: https://www.ilsos.gov/bansearch.
I FORGOT TO USE MY BENEFIT ACCESS NUMBER TO GET MY DISCOUNT. WHAT DO I DO NOW?
You will be charged the full amount of your renewal. You can apply for a benefit access refund through the Secretary of State here: https://www.ilsos.gov/bap. The Secretary of State is solely responsible for any and all refunds.